Meet Amy Hastie. "I live in Margaret River, Western Australia. I run the Wild Star Dance, Margaret River Circus Center. I have always loved dancing but have now anchored my passion in aerial dance arts. I am currently on a mission raising funds by preselling for the printing of my "60 Tricks on Aerial Silk" Instructional Choreography Cards."
1. Amy could you please a little bit about yourself, how have you come to aerial arts, on which apparatus you are performing, where are you working?
I came to aerial arts after I sampled almost every other style of dance under the sun!! I absolutely loved the fact that dancing in the air gives you 360 degrees of spherical expression, where as on the floor you've only got half that to work in. My favorite apparatus is a tricky one to figure out. Trapeze was my first love, but I'm sort of infatuated with hammock at the moment. I work in my own business, Wild Star Dance, I offer the dance side of circus; static trapeze, aerial silks and acrobatic dance as well as stocking aerial dance products and transforming the basis of my curriculum into my "60 Tricks Cards"
2. Amy has a crowd funding campaign for her aerial project for kids. Amy could you please tell us about your project. What it´s about, how did you come to this idea?
When I first started teaching aerial dance I searched the net, asked fellow dancers and hunted for literature abroad to find some pathway on which I could base my curriculum. I came up with nothing! So I chose to create my own, which has proven such a valuable teaching aid for me and apparatus inspiration for my students that I am working to make it available to everyone. The product is a set of 60 cards with a picture of the trick on the front and instructions how to get into and out of that trick on the reverse. It comes in a box with a little information booklet. And it's not just for kids!
3. That´s amazing Amy. For everyone who wants to support your project where we can find your crowd funding campaign?
I am currently preselling enough sets of "60 Tricks on Aerial Silk" cards to print the initial 1000 sets. If you'd like to jump on board and order a set of silk or trapeze instructional cards, head to my website wildstardance.com.
Could you please tell us about your static trapeze project?
I ran a successful campaign in order to print my "60 Tricks on Static Trapeze" Instructional Choreography Cards at the end of last year, these are now available through my website. They are now what I and many others base our teaching pathway on, the students absolutely love them, and they make the instructors job easier for sure! The students can organize the A5 cards under the trapeze as a choreographic reference, and if the order they've chosen doesn't work, they jump down and shuffle them around.
4. What do you like teaching and performing the most – silks or trapeze? How differ your feeling on silks and on trapeze?
Where exactly do you see more difference: in the dynamic, space, etc.?
Although silks is the most popular apparatus, I prefer the trapeze. I feel that the possible transitions from one pose to the next is completely open due to the rest point the bar provides. Meaning the students are more easily able to take the improvisational dance style they discover on the floor into the air. Silks takes a little more time and dedication to achieve the same level of personal expression.
5. How is circus education in your country? What do you think about children circus education in general? Maybe you could give us some insights.
Circus is still very much a fringe activity, but I do see it creeping more into mainstream acceptance as a valid physical activity for kids. I love the cradling of individuality that circus arts can provide for kids. For me, aerial dance is a vehicle for personal expression, fitness and self esteem. What kid doesn't need all 3?? Perfect!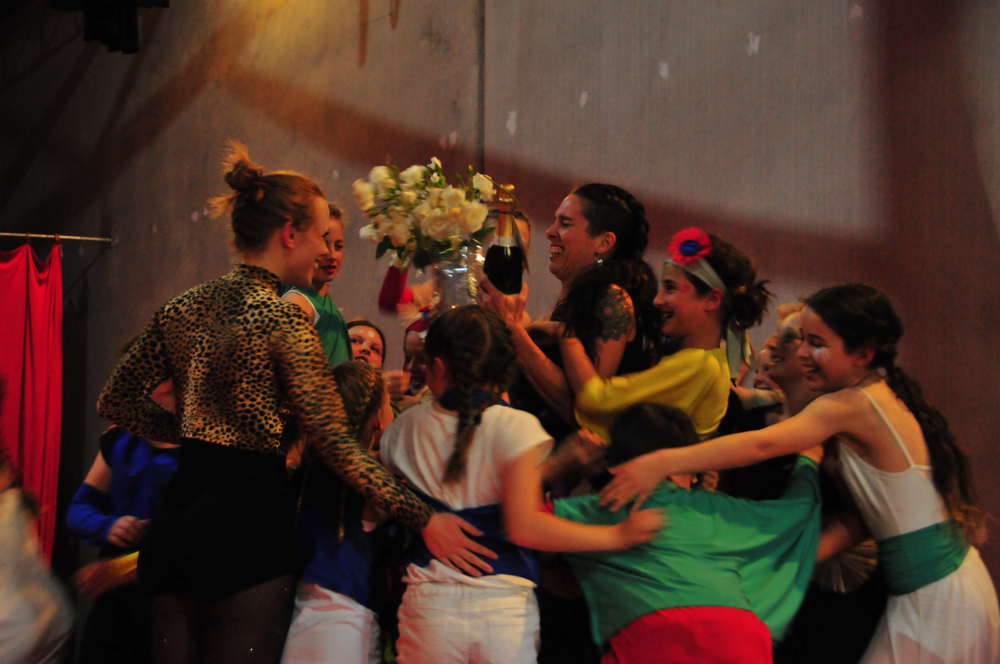 6. Do you teach with the music?
What are your favorite music bands, singers or compositors for performances and for teaching if you use music at your classes?
Is it challenging for you to find good music?
I do teach with music yes. Live is always preferred for performance if it is possible, might be the Spanish dancer in me speaking there! I tend to let the kids guide the music choices for it is difficult to dance if you're not moved by the music. Hence we often end up with the top 50 hits on repeat, forcing me to throw in a bit of Yann Tiersen or Yael Naim every now and then. Finding good music in this technological age is so easy! I love that!
7. Could you give some tips for those who teach circus aerial silks to children or want to do it?
What are your 3 biggest learnings from teaching kids?
1. Don't squash their natural style of expression, learning good form is essential but not at the cost of unique movement.
2. Have a clear pathway, like the one my "60 Tricks" cards provide, they love to see how far they've come and where they're headed.
3. Keep them safe. These are our next generation, you are setting patterns for life.
8. Do you have a kid? How is performing and having a kid? What is your approach to it: do you want or are you teaching circus to your kid too?
I have 3 children, a 10 year old daughter and two sons 12 and 17. The oldest and the youngest are heavily into circus arts, they are an awesome acro balance team. The middle boy sees a different path so provides some variety in family pass times! I gently offer to teach my kids whatever I know and happily do so when they ask. I believe that pushing anyone into a learning is the fastest way to kill any potential passion they may harbour for it.
I have chosen to share my skills over performing them due to my beautiful children. Hence opening my own studio. Performance as a career focus means a different life style to the one I currently share with my family, dogs, chooks and the beach! I still get performance opportunities, I just don't need to rely on them for income.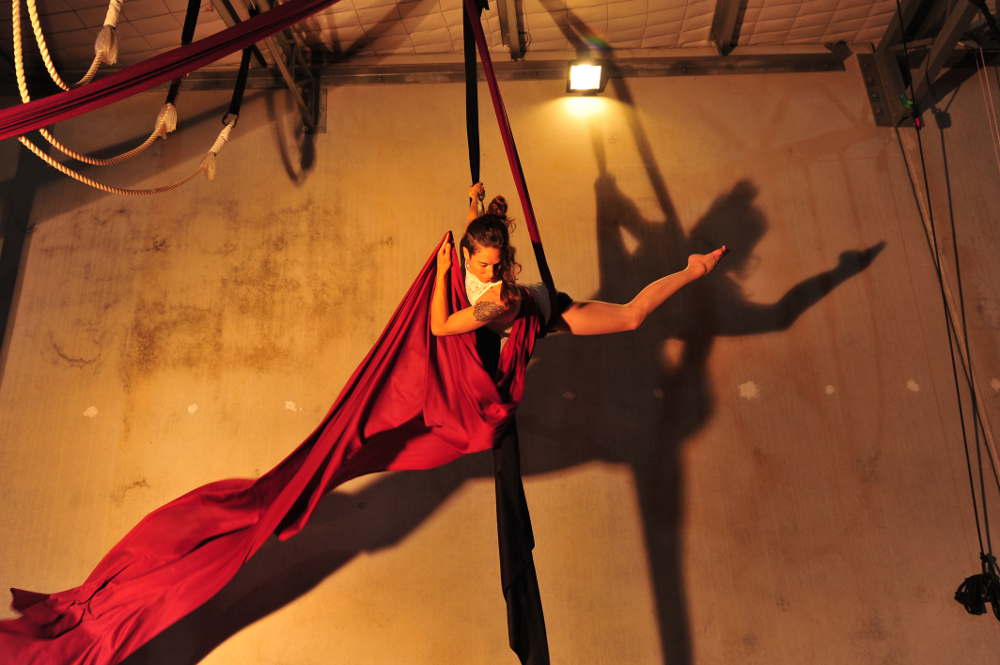 9. Could you please share 2 or 3 tricks on the silks with explanation for our adult readers to try out and learn? Do you have something interesting, advanced or intermediate?
-The way I have chosen to share my tricks is through my cards! Here is a sneak peak…(I have popped these 3 cards in with the other photos)
10. What are your plans for the next year and what is challenging for you right now?
My plans for the next year are to continue the work I started this year in my new studio. Teaching, making and supplying equipment and developing my curriculum further. What is challenging for me is trying to raise enough funds to get my silk cards printed so head to the website above now!!
11. Where one can find your school or book you for a performance?
My website wildstardance.com is the best contact, or you can always drop into my studio, I'm usually here!
Photos:  Lauren Trickett Photography