Emiliano is a talented aerial rope artist and teacher with unique technique and style. You can read more about him and his great work in this interview .
Emilaino, known as the Rope Master, travels around the world teaching the beautiful and strong art of aerial rope and performing.
I had an opportunity to visit his 2 days advanced aerial rope workshops when he was in Berlin and it was an awesome experience. There were different artists, also famous artists and amateurs from Germany and from some other countries who came to Berlin just for the workshop. It was a nice, friendly atmosphere with a lot of fun and hard work at the same time.
Emiliano teached us  new movements and tricks always explaining the right technique and making us conscious of how we create the movement often also showing it both on the rope and on the floor.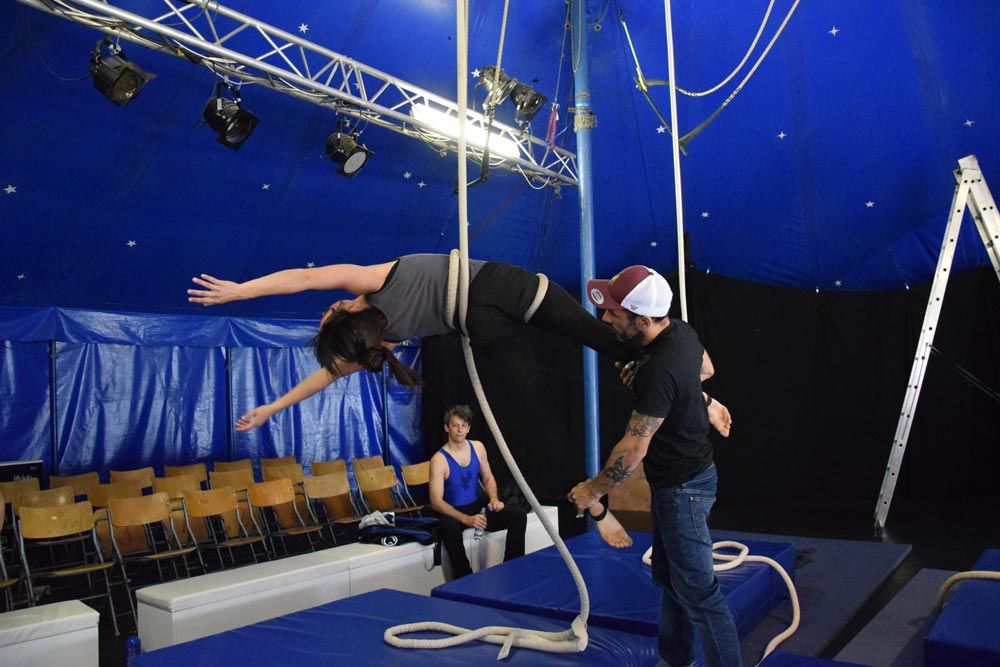 Emiliano corrected us when necessary and was attentive to everyone so that all of us could take some good knowledge from the workshop.
I just loved the ticks and climbing that we learnt at the workshops. We also combined some of the moves into a nice composition.
I really enjoyed the workshop and great things that I learnt at it. I definitely recommend Emiliano´s workshops to everybody who wants to learn very cool tricks for aerial rope with a correct technique and original style.
Emiliano is teaching aerial workshops in different countries for different levels. Go and try them out or share them with your friends who could be interested.
The next workshops by Emilano
18th till 31st , July. St. Nazaire, France. Les Rencontres de Danse Aérienne.
4th till 7th, August. Barcelona, Catalunya. 5th Rope Meeting. (Organizer)
9th till 11th, August. Menorca, Islas Baleares. Menorca Rope meeting. (Guest Artist)
20th and 21st, August. Sheffield, UK. Rope Workshop.
1st till 15th, September. Cape Town, South Africa.
19th till 30th, September. Stockholm. Sweden.
7th till 17th, October. Palestine. Palestine Circus Festival.
25th till 29th, October. Berlin, Germany. Aerial Arts Festival Berlin
November. Santa Cruz, California. Radical Movement Factory.
December. Seattle, Washington.