Aurélie Bernard is a circus artist and  performs internationally with different aerial apparatus. She discovered circus when she was 15 and studied    at the   Circus Space in London.
1. Aurélie, could you please tell me about yourself?
How was your story of becoming an aerialist? What was your biggest challenge and how you overcame it?
I started circus when I was a teenager, I loved juggling at the time and so that's why I went to a circus school. But during my first class, I got to try trapeze and a felt in love with it! I stopped my juggling career and started learning aerial.
2. What and who inspired you when creating your own style?
Inspiration come from so many different places, not only shows or persons, it can as well come from music, books, or life events.
I remember being really inspired by a small French circus company called cirque Gosh, a well as James Thierrée's show "La symphonie du Hanneton". I always loved Tsigane culture and music, this had been a big inspiration for me. Some movies director as well, Emir Kusturica and Wes Andersen in particular.
3. With which aerial apparatus do you perform? Which is your favorite and why?
My favorite is static cloud (static cloud swing) this is why I specialized in at circus school and probably the one where I did the most research in. I just love the fact that this apparatus doesn't really exist so there is no technic coming with it; you just have to find your own way of using it!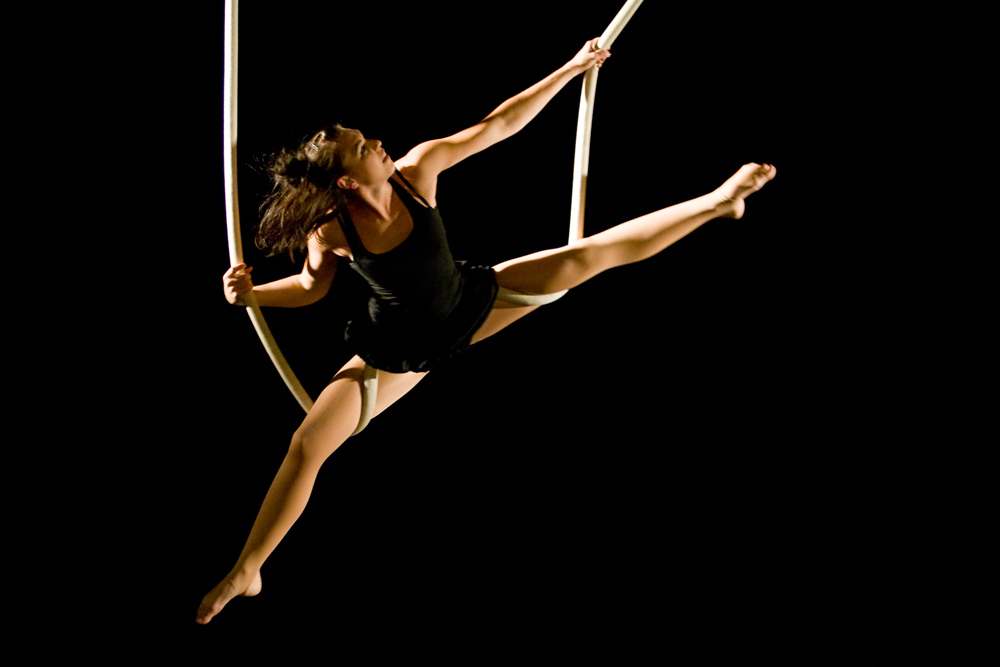 Photo:  Katherine Leedale
4. How does your usual day look like?
How long and how often do you train and stretch? How long do you warm up and stretch before the performance?
I usually train 5/6 days a week and try to do not less than 2 hours every time (circus training). I take yoga and pilates classes, I go to swim and I run every week as well.
I like to have as much time as possible before going on stage. I would say that I like to have 1h30/2h for warm up but sometimes it's not so well planned and I end up with only 30 min to warm up, which I really dislike.
5. You performed in many countries. Could you please share some funny or unexpected episodes during your performances?
I had some crazy experiences during my travels, often due to languages difficulties or poor organization… but one thing that touched me a lot was when I was performing Clémentine, at the end of the act, I used to kill myself. But many times, in different countries, people shouted at me not to do it, to stop it. The audience got really involved in this act, so much that I changed the end and finish on a much happy note now, as I get so much support from the audience!
6. How do you create your aerial hoop transitions?
How is your creative process when preparing choreography? How do you choose your music for your performances?
Before I make a new act, I usually spend months on the hoop trying to find new moves; I like the idea of starting everything from scratch. Sometimes I already have music in mind but not always; in that case I adapt the choreography to the music afterwards.
I always listen to music when I am home, working on my computer, when I hear a song that I like, I save it and then try to use it to perform. But I am really specific on what kind of music I want to use so sometimes it takes forever before I am satisfied!
Aerial hoop photos and a featured photo: Maja Karen
7. What is the most important in a performance from your point of view?
To trust what you are doing!!! Have a strong presence, perform, share with the audience, be there!
8. What precaution tips can you give for aerial hoop lovers?
Did you ever have injury and how have you cured it?
Photo:  Tangle Photography
I will say one thing : do some conditioning!!!
When I teach, I often hear form new students: can we do more tricks? Yes of course, but first you need to be strong enough to avoid any injuries. If you learn tricks too fast, you will never improve, you will stay on the same level, doing the same tricks all the time. It is important for students to take the time to get stronger and understand their bodies better. Being in the air is a strange felling and it's quite hard to control your body when you are upside down, you have to train that!
About myself, I try to do as much yoga and Pilates as possible, as well as basic conditioning to prevent and avoid injuries.
9. I saw that you have a very beautiful shoulder turn in one of your videos on the aerial hoop.
How one can learn that? What tips or exercise can you recommend?
I will not recommend that move to anyone!!
I think it's a move that you can do or you can't. Of course there are way of training your shoulder flexibility but I don't think that it is a great idea to train a shoulder dislocation. And if you are able to do it, then learn how to do it right and make sure that you keep conditioning your shoulder to have a good support.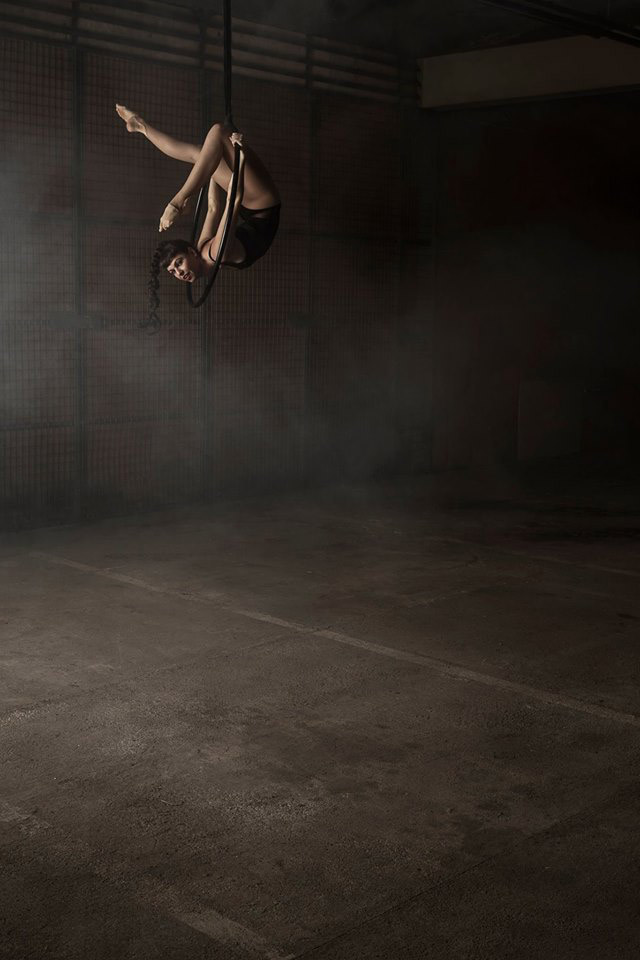 Photo: Maja Karen
10. What exercises and tips can you give to the readers for a good middle split in the star trick on the hoop?
Stretching on the floor. Either lying down on your back, with some weights on your legs or with an elastic around your legs. Remember to stay in the position for a long time, not less than 5min.
11. How is the circus scene and circus atmosphere in the countries where you performed?
What are the best places to do aerial circus there?
I now live in Copenhagen and I love training here! The circus community is not so big and really friendly.
I was in London before, where I lived and studied and I had a great time there. But there are a lot of circus performers and therefor much more competition.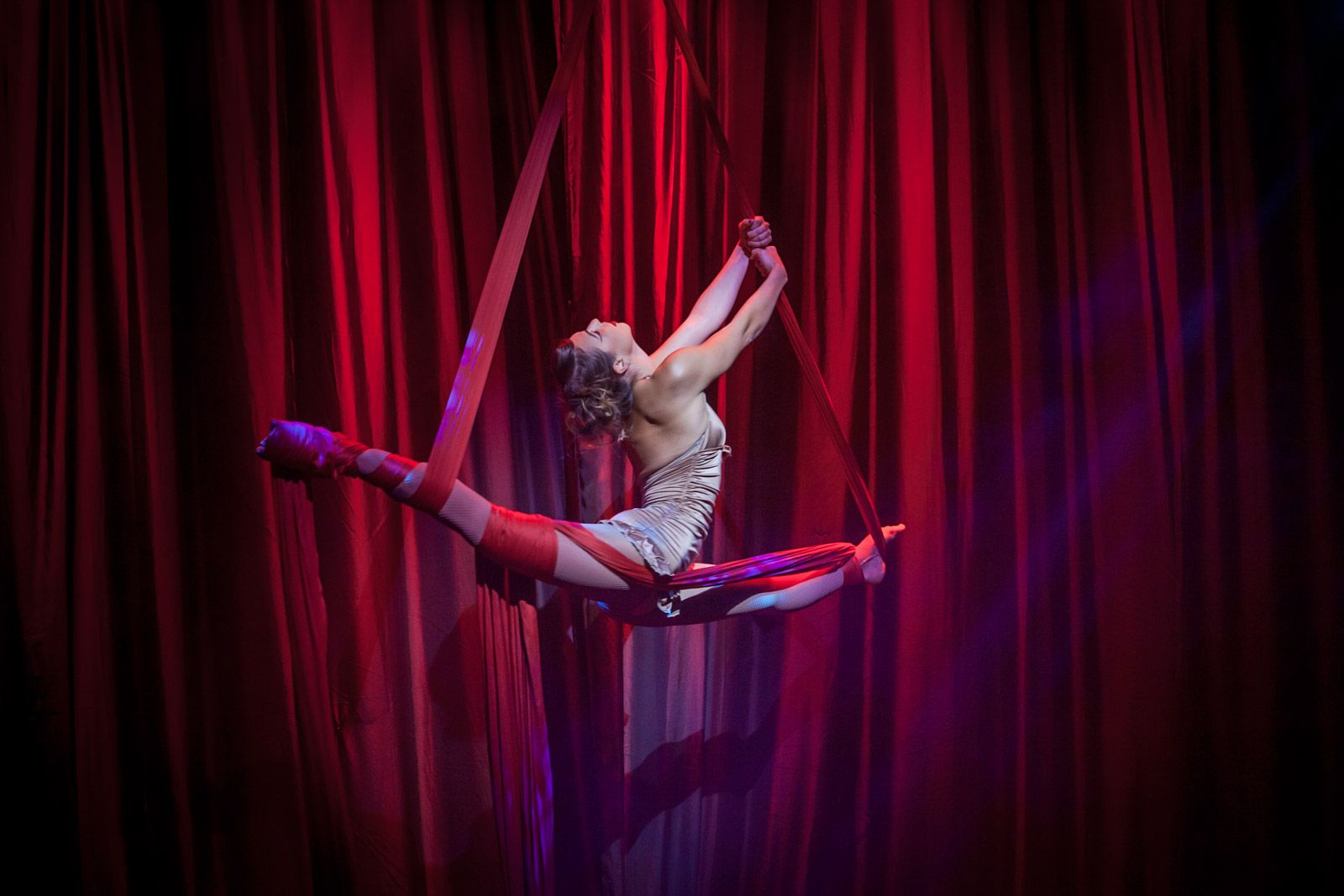 Photo:  Tim Draper
12. Where one can book you for a show?
Do you also give classes? 
You can contact me and see all my infos on my Facebook page  as well as my website  or on Instagram @aurelieclementine.  I teach weekly in Copenhagen but I am happy to give private classes while I am traveling.