Arlene Caffrey is one of Ireland's best known and loved pole dance artists. She became addicted to pole dance when it was first introduced to Ireland as a fitness concept and has since progressed, to travel all over the world to perform, compete, teach and develop her artistry. She hopes to bring a theatrical and expressive edge to pole dance and to create something beautiful, unique, expressive, free and daring, to rise above the ordinary and defy convention.
With almost 10 years of pole dance experience, Arlene has 7 Irish titles under her belt, including All Ireland Pole Dancing Champion 2014 and Pole Theatre Ireland Classique Winner 2014. She is also United Pole Artists 'Bringing Sexy Back' Poster girl for 2015. She is also a successful business woman and runs a world-famous pole dancing studio called the Irish Pole Dance Academy, with studios in Dublin and Galway.
When Arlene isn't pole dancing to rock 'n' roll music, she loves Burlesque, cats and drinking tea.
1. Arlene, could you please tell me your story and how your first discovered pole dance?
How was your process to make pole dance to your career?
I started pole dancing 10 years in my hometown of Drogheda, as a fitness hobby. Back then it was more 'pole sport' and 'pole fitness', there were no sexy elements, no heels, no pointed toes! At that time I was studying graphic design in college. When I graduated in 2009, it was difficult to find a job as a graphic designer, due to the appalling state of the Irish economy, and I decided to try my luck turning my hobby into a business. I started out as a fitness and pole dance trainer and grew my business from there. It was never meant to become a full-time career, it just sort of happened that way! But I am much happier and very fulfilled doing my work in the pole dance world.
Don't be fooled… My life doesn't look like what people think! Unfortunately I don't spend the whole day pole dancing in the studio to my favourite music, in my sparkly hotpants and heels and rolling around in money. A lot of hard work has gone into building this business; I spend a lot of time in front of the computer doing marketing activities, taxes and strategic planning. I have 2 studios, in Dublin and Galway, with 10 people who work with my. So it takes a lot of time to do the all of the administration and management that a growing business requires.
Photo: Chris Donald
2. Do you have one style or do you combine different styles?
What inspires you most in pole dance? How do you create your characters?
My biggest inspirations 'growing up' are Alethea Austin, Karol Helms and Amber Ray. Training and working with these ladies helped me to develop and refine my own style of pole dance, which is centred around the sexy or exotic side. I also am now greatly inspired by the Russian exotic dancers, such as Olga Koda and Eva Bembo, as well as Aussie pole dancer Fontaine Bradbury.
For inspiration I also like to watch what other pole dancers are doing; I like to explore elements that I like and put my own 'spin' on them, creating my own transitions so that it develops into something different.
When I'm working on a performance piece, usually the music is what helps me to create the characters. I like to visualize a story that the music is telling, and create a character based on these cues and emotions. I also use Pinterest to collect photos that inspire the feelings / imagery that I want to convey and use this to guide the creation of my character.
–       That´s interesting, as a graphic designer you have your own original visual creative process.
–       Arlene: Absolutely, I use a similar creative process and I would have done as a visual artist…
3. What in your opinion special about pole dance? Do you also train with some other aerial apparatus?
I´ve done pole dance for 10 years, so I guess it that´s why I feel very comfortable with the pole. What I love most about pole dance is the connection between the floor and the pole. There are endless possibilities for movement and dance here. In the past I´ve done aerial hoop, aerial silks, trapeze and some corde lisse. I even spent a brief time working with a contemporary aerial circus group as was part of an aerial dance production. I feel that pole dance is the most complete and most difficult 'aerial' art. It requires a lot of strength and flexibility as well as refined movement. Also because I love floor work, I miss this in other aerial training. I love the flow from floor to apparatus (and to the air) that pole dance allows.
4. How does your usual day look like? How long and how often do you train and stretch?
Do you have special training rituals or is each of your trainings different?
Unfortunately running a business means that I don't have as much time to train as I would like. I train my active flexibility 5 days a week. I focus on a specific area in each flexibility session. For example, one day for front splits, one day for middle splits, one day for back bending and shoulders, one Hot Yoga session, and then another for middle splits. Because I am naturally very stiff I need to work on my flexibility a lot to reach the specific goals that I set out for myself. I am naturally quite strong, so I will spend some time conditioning (usually first thing in the morning, most days) for about 20 mins. I train on the pole for specific elements and dancing 2 sessions per week.
5. You travel giving workshops and performing. Could you please share a   funny  episode during your trips with the readers?
In 2011 I was at 'Miss Pole Dance Germany' competition, I came to Hamburg together with my boyfriend Padraig. So as I arrived, the organizer said to me "Arlene, you came with your boyfriend, great! The one who was supposed to clean the poles has canceled and we urgently need somebody who could do that. Could your boyfriend do that?" Padraig hadn´t done pole before. So I had to teach him how to climb and to clean the pole before the competition was due to begin, to ensure he did a good job! And he did!
– Has your boyfriend continue doing pole dance afterwards?
-Not really, but he knows some tricks. But he prefers swimming and cycling more.
6. How do you create your pole dance transitions and floor work? What are your best tips for the readers?
I'm always inspired by watching what other pole dancers are doing. I like to watch their transitions and floorwork and think "What can I do with that" or how can I do it a different way. When I'm training I will explore the transitions in a different way. I really love transitions and I consider myself a 'transition' dancer. I prefer doing things that are easy for me and my body. When I'm performing I like to do tricks and elements and that I know I can well, rather than trying to do really difficult things. I prefer to show my strengths rather than my weaknesses. I take my time working on new elements so that I don't injure myself, and I never put them in a performance until they feel 'easy'. So I like doing tricks and transitions that I am good at, and focus more on telling a story through my performance. I love telling stories, maybe it's because I´m Irish and we love stories! Also, I believe the audience loves stories more than tricks.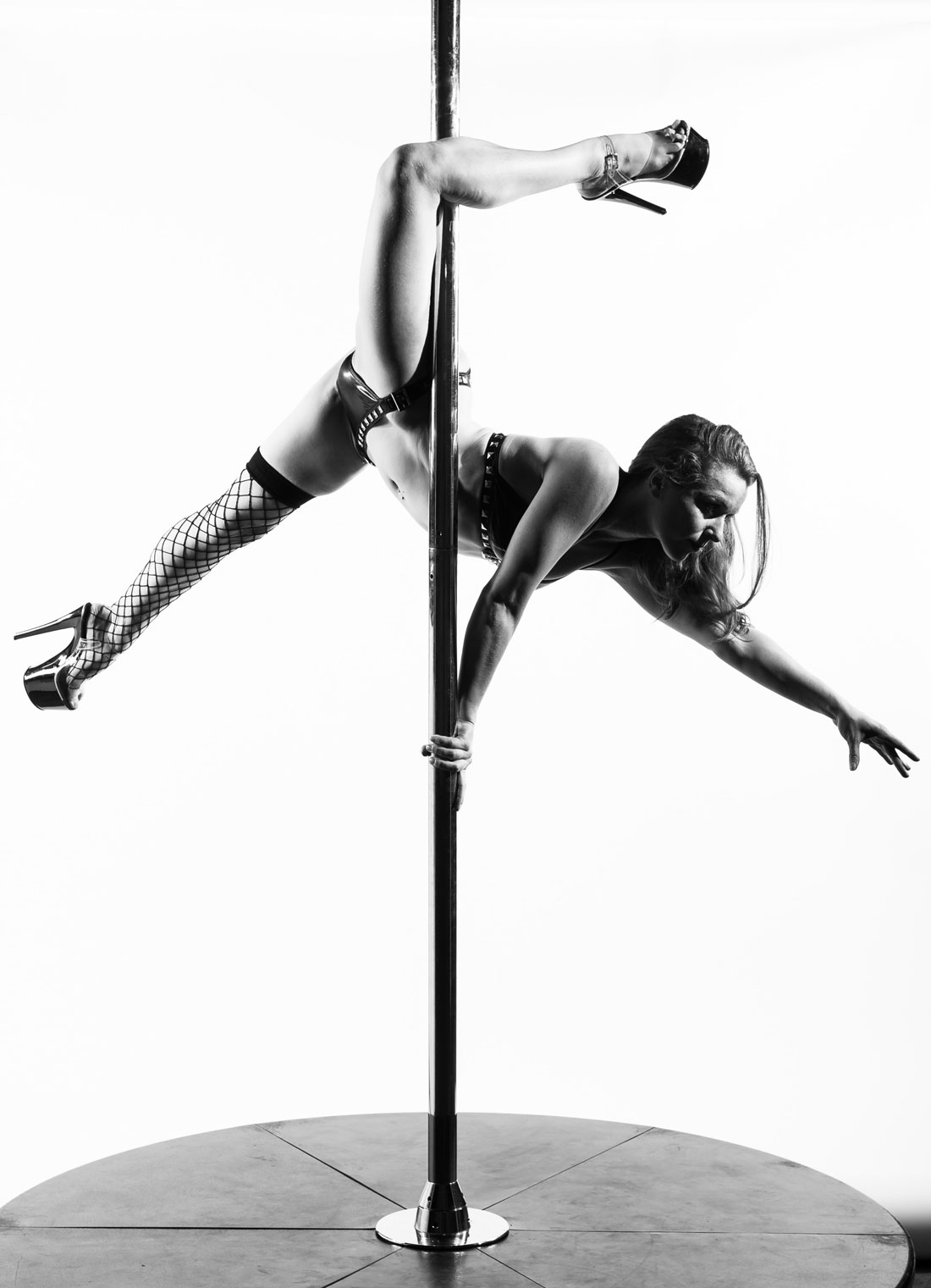 Photo:  Jass Foley
7. What do you appreciate most in a pole dance performance?
How is your creative process when preparing your choreography? How do you choose your music for your performances?
I like when the legs are fully (and properly) extended, from the hip, through the knee, to the ankle. And the feet are PROPERLY pointed, not just the toes, but the ankles! Especially when the dancers are wearing heels. I am very strict on these elements when I'm judging pole dance competitions. I like people to tell a story and to show their emotions rather than trying to do difficult moves that they haven't yet mastered. When some people perform, I can see that they are preoccupied with their technique and they choose the most difficult movements, the result is that they look like robots instead of creating a dance. The audience wants to feel emotionally moved by a performance; they will forget the tricks you did but they'll remember you if you brought some sort of emotion, story or beauty to your performance.
Yes, that´s true when you know the movements well, they look light and fluent, like a dance, and you can express yourself freely without struggling with your body and boring the audience.
Yes, audience wants to see your performance. A simple move is more worth than an impressive that has ugly or difficult transitions; details like that takes the audience attention away from what you are doing.
When I'm choosing music, I like rock music so that´s why most of my performance music is rock.
In which languages are the songs you perform to?
I like to understand the song in order to express it. That´s how I feel about it. So I choose rock songs in English. Because that´s what I´m listening to.
Have you seen people suffer during the performance?
Yes, I´ve seen this before and sadly many pole dancers and aerialists are still doing that. Recently I was judging a pole dance and aerial hoop competition, one of the competitors fell very badly from the trying to do a move that she was not yet ready to do. So she fell on her face and there was blood everywhere… It was a very scary thing to witness, but thankfully she was not seriously injured. This is why I believe that simple moves executed well with flawless transitions and good lines are more beautiful and worth more than the 'hard' ones.
8.  What are your secret body care tips?
What tips can you give to those who just start pole dance and need to adopt their body to the pole?
I recommend not to use crèmes with oil, as it affect your grip and make it difficult to hold onto the pole. The Body Shop has a really great body sorbet that is not greasy, so I recommend that one. For new beginners, Arnica is really good to help the bruises that you will acquire when learning pole dance. It's very normal to get a lot of bruises when you're starting out!
9. What tips can you give to make a good closed inside leg hang?
What are your 2 favorite pole dance tricks? Could you please describe how to do them to those who maybe want to learn them?
For a good closed inside leg hang you need to have a good split, good backbend and even better shoulder flexibility. I find this trick is safer with the inside shoulder around the pole as an extra point of contact, and also to make the line prettier. I also recommend to 'kick' the leg into your hands rather than trying to pull that leg over your head using only the strength of your arms. It's also a lot easier in heels!
Another trick that I like is Jamila. It´s a simple move that´s always looks beautiful. I have a tutorial about it here:
10. You have your own pole dance academy. What things should one consider when opening one´s won pole dance academy or school?
How does it work with pole dance equipment? Are there possibilities to partner with pole shops?
I in my 'spare' time, I give business coaching to fitness professionals who want to start their on business or improve the business that they already have. To anyone considering opening their own pole school, there are a lot of things to consider and it takes a lot of time. It is a business like any other, so you need to spend the time writing your business plan and taking necessary steps, such as registering for paying tax, getting insurance, knowing your target audience, building strategic alliances, developing a marketing plan, setting long-term goals and also taking time to ensure you will have a good margin.
As for the equipment, I work a lot with X-Pole and they have a lot of different types of poles, including those that you can fix permanently and those that you can put up/take down. The equipment is very important, so it's better to buy expensive poles than cheap ones. They last longer and are better and safer for your students. Remember, your poles are your business. Without proper poles, you don´t have a pole business.
11. You won many championships. How was that experience for you?
How were your preparations and feelings? How is the atmosphere at a pole dance championship?
I like competing in pole dance championships and I have won a lot of them. I use the same creative processes as I've already talked about to prepare myself for my performances. I always enjoy being on stage and I love performing, so I think that's a huge part of the reason why I've won so many! In every competition I've won, I've not always been the competitor with the most strength, most flexibility or 'coolest' tricks (I stick to what I'm good at, as I've already talked about), but I always have a story/character/theme and I always put a lot of energy and emotion into my dancing.
I love the atmosphere at competitions and I love the backstage camaraderie, I love how everyone supports each other. I think it's very unique to the pole dance scene and I hope we never lose this.
As it´s quite often cold in the backstage rooms, I take a hot water bottle with me. I also bring lots of healthy snacks and water, as sometimes the competitions are very long!!! About 30 mins before my performance, I like to do a short warm-up with similar movements that are in my routine, so as not to use all my energy.
12. How is pole dance scene in Ireland?
I think it´s a really good moment in time for the Irish pole dance scene. There are now a lot of pole dance studios in Ireland, more than ever before. When I first started there weren´t very many and it was very difficult to find a teacher and a good studio, because they were all so far away from each other. Now there are more studios and more teachers. They have good skills and good qualifications. It´s a nice community and everyone is friendly and supportive to each other. Yes I´m very happy to be the part of it!
13. Do you prefer pole X stage standard or lite? Why?
I prefer the X-Stage Lite because I drive a small car and this pole is not as heavy. Also I feel that because the base is closer to the floor it´s easier to do floor work and to make nice transitions. The other one is very big, so transitions are difficult and floorwork is very, very difficult.
14. Where one can book you for a show? Do you also give classes?
Yes, I have two websites. My personal website is arlenecaffrey.com, and my studio's website is irishpoledanceacademy.com. The Irish Pole Dance Academy website is the best way to contact me, if you are interested to visit my studios and take classes with my team and I. I also give private lessons through Skype, so it´s possible that I can train with you anywhere in the world! If you are interested just contact me through either of my websites!
I'm also on Facebook  and Instagram @arlenecaffrey.
Thank you very much Arlene!
Featured Photo:  Deirdre Ní Fhinn